Tailor-made Red Sea Diving Holidays.
Egypt's Red Sea has everything you need for perfect diving holidays.
Less than 6 hours from the UK you can dive into crystal clear waters or step aboard your luxury liveaboard within the day.  Well-equipped day boats mixed with all types of beach resorts means there's something for every budget and every level of scuba diving experience on a Red Sea diving holiday.
Red Sea diving is full of stunning
coral reefs teeming with marine life, dramatic caves,
drop-offs and famous wrecks.
The Red Sea also has plenty for family holidays with great snorkelling and an abundance
of après dive. Our Diverse team have been diving and exploring
the Red Sea for over 20 years – no one knows scuba diving in
Egypt's Red Sea better than our Red Sea holiday experts.
Never miss a deal
The Latest Diving Offers & News Direct to Your In Box
The Red Sea Diving Guide
A scuba diving destination with much to offer.
With water temperatures rarely dropping below 20 degrees C, The Red Sea really is a diver's dream destination. The regeneration of reefs and wild life in recent years means there's never been a better time for Red Sea diving holidays. 
Exploring Red Sea Diving
From Sharm El Sheikh in the North to Marsa Alam in the South diving this world class region suits all scuba diving and holiday needs. At Diverse we specialise in holidays combining Red Sea diving with many other Egyptian wonders: the Nile, The Pyramids, Cairo and much more. Here's our in depth guide to the region, where to go and what to see on your next Diverse holiday. 
Red Sea Diving Essentials
Dive season:  All year
Best time to go: April – November 
Flight time from UK: 5+ hours
Diving levels: Beginners, intermediates, expert
Would suit: Singles, couples, groups.
Notable for: Day boats, easy shore access, wrecks and more. 
Accommodation: Resorts, liveaboards. 
What you'll see: Clown fish, whale shark, turtle, extremely varied marine life. 
Our Red Sea holidays are based around three separate areas, also known as resorts. Your choice of holiday resort will depend on how you want to spend your time: in a hotel, day boat, liveaboard or combining your diving with other attractions. With direct access from most UK airports The Red Sea is easily reachable within the day.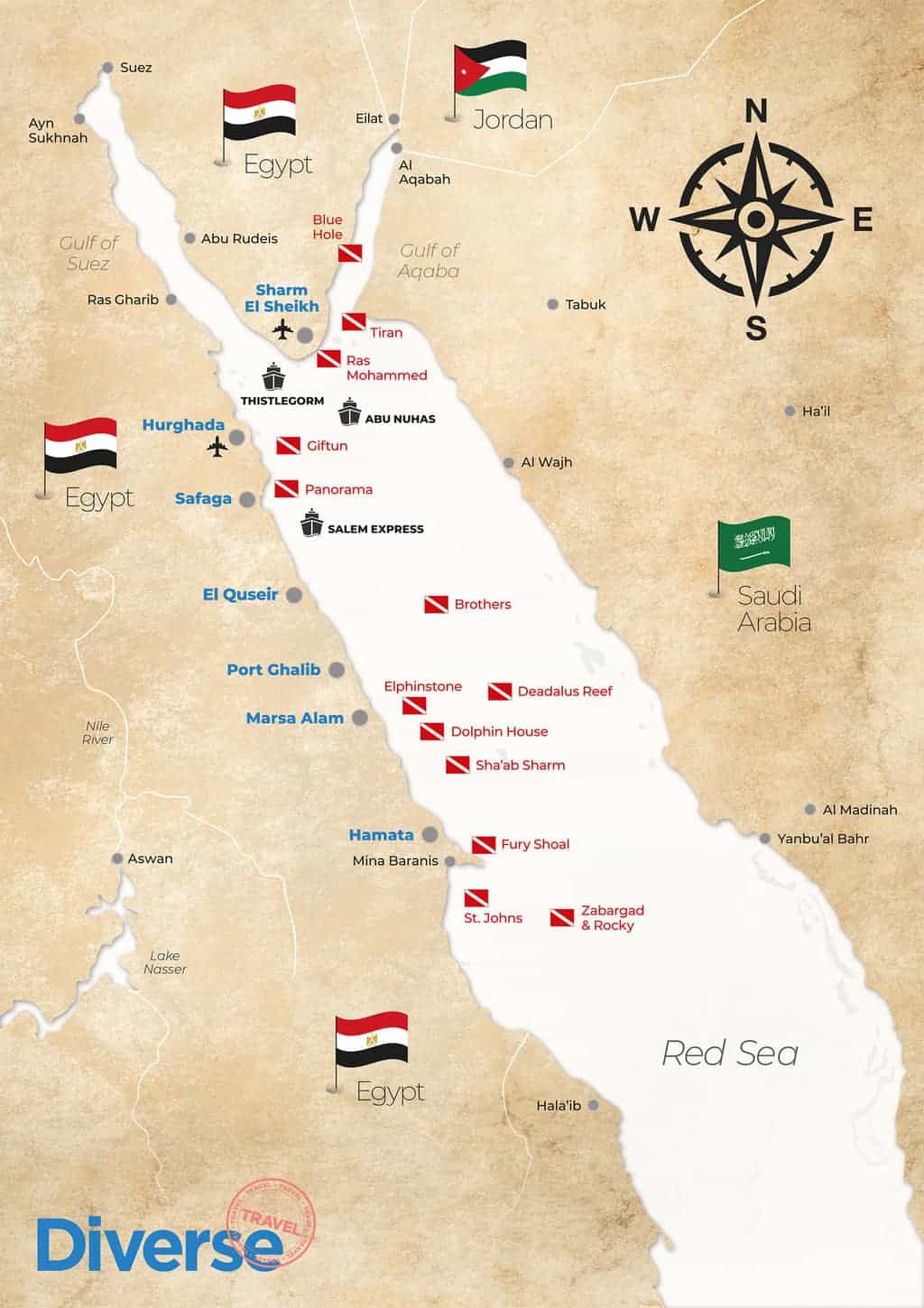 Where are the best places to dive in the Red Sea?
Diverse Travel offers a choice of five Egyptian Red Sea resorts and an impressive range of liveaboards for those wanting to travel further afield. Sharm el Sheikh in the North is a long established tourist resort with easy access to day diving via it's port side location. Hurghada and Marsa Alam are your gateway to the southern Red Sea with a unique and very different charm. Hurghada offers a glimpse of the real Egypt, with a superb range of dive sites just a short boat ride away. The smaller resorts of El Gouna and Safaga are great options from which to explore the best of northern reefs and wrecks just a short distance away from Hurghada itself. The spectacular coastline south of Hurghada opens up to tranquil, pristine diving, and direct flights into Marsa Alam throughout the year means it is now even easier to access the impressive marine parks of the southern Red Sea. The southernmost resort in the Egyptian Red Sea, Hamata is the ultimate in "get away from it all" diving, within pristine reef systems which have been relatively undived.
In and around the Red Sea
Egypt is a wonder for the senses both above and below the water. From sand dunes rides to candle-lit dinners in the desert we can organise a range of special trips and activities along with multi-centred breaks to take in the wonders of the world: The Nile, The Pyramids and Cairo.
Learning to dive in the Red Sea
Sharm el Sheikh has always been a go to destination for divers across the Blue Planet but with direct flights from the UK coming back online in 2020 it's due for a resurgence. Read our latest blog for up to date news. 
A long time favourite with British holiday makers looking for out of season and winter sun Sharm has something for everyone from resorts for all budgets to day diving and liveaboards. With it's legendary fringing reef it makes an excellent holiday for non-divers who can snorkel the crystal clear waters from the shore of from the ports plentiful day boats.
The Diving
Learn to dive – Easy access: pools and Emperor Divers 
Shore diving – Easily arranged 
Boat diving – All boat diving departs from Naama Bay
Local dive sites – With easy access to the Straits of Tiran and the world famous Ras Mohamed National Park, divers are spolit for choice and able to choose dive sites depending on the water and weather conditions.  There's also specialist day trips to the wrecks of the Thistlegorm, Million Hope or Dunraven.
Whether you plan to dive every day, learn to dive or take your diving qualifications to the next level, you'll feel well looked after by our teams of local instructors and guides.
Where to stay 
Hotels are plentiful in Sharm so there's never a shortage of accommodation. See our latest offers or contact us directly for the current and best holiday deals, all a short hop from the port and your first day's diving. 
Après Dive
Sharm has probably the most to offer outside of diving. With a variety of nightlife, bars and restaurants this town is a well established holidays destinations used to catering for divers and non divers. 
Getting there
Sharm El Sheikh can be reached directly from the UK with Tui or Easyjet or via cities such as Istanbul and Cairo. 
Direct flights make Sharm great value for money and off peak dive holiday deals are among some of the best in the world.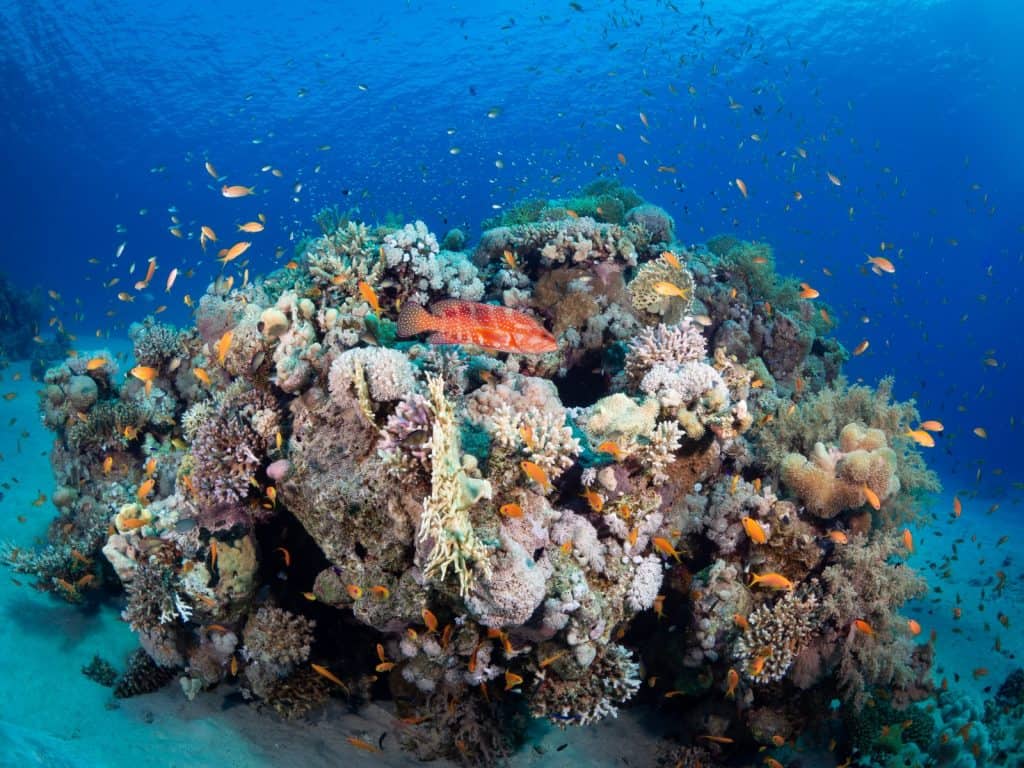 Want to discuss the right Red Sea diving holiday for you?
Get in touch with our diving holiday experts for inspiration, advice and the latest deals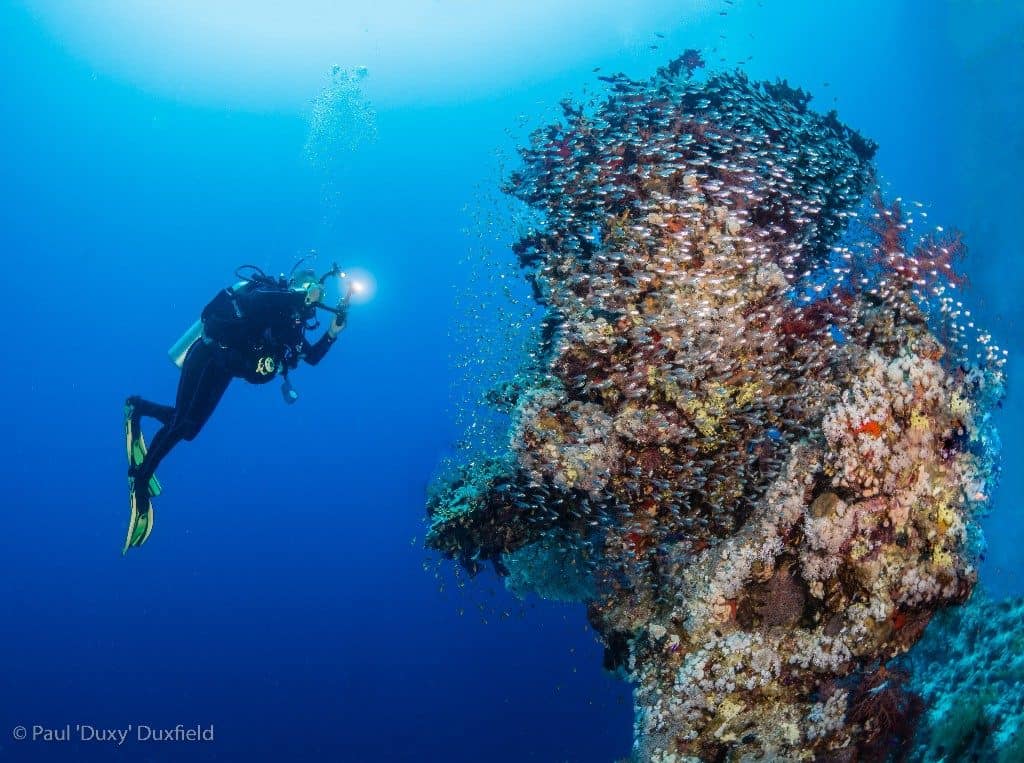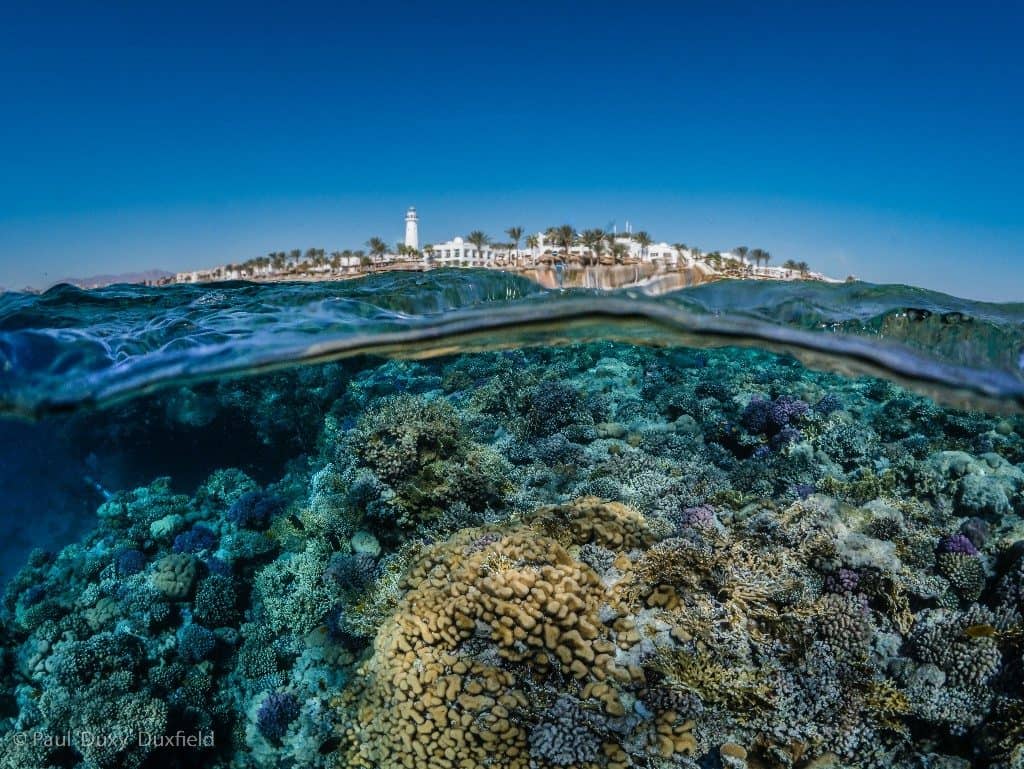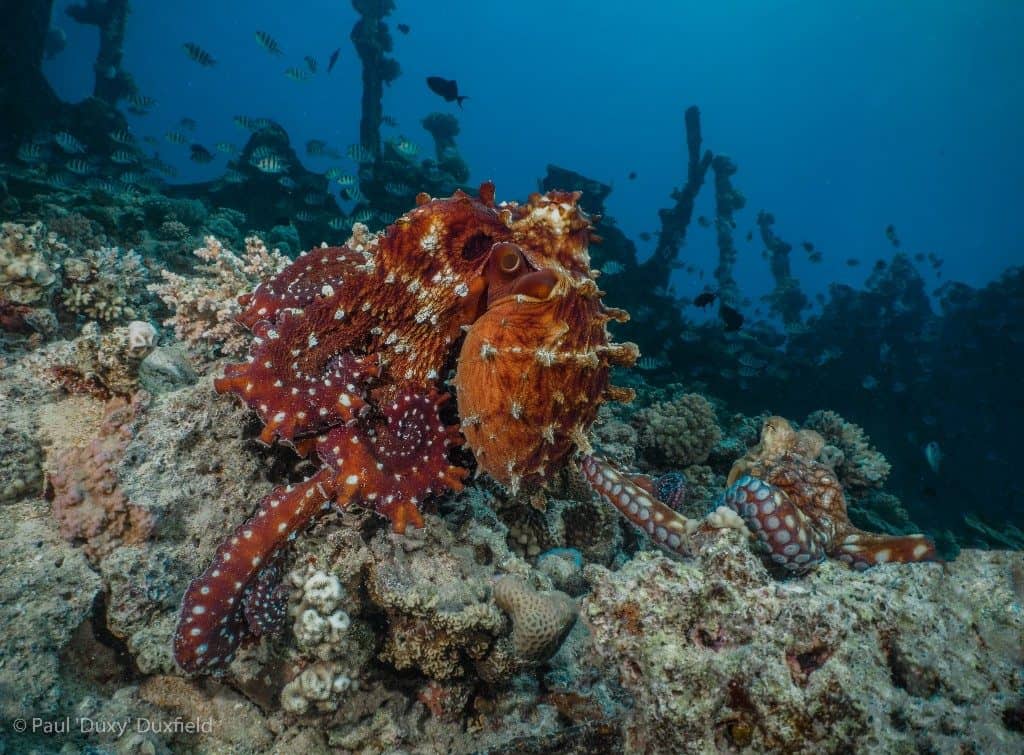 Hurghada Resorts – El Gouna.
El Gouna has a wide choice of hotels, a golf course, shops, bars, restaurants and dive sites. Nicknamed Little Venice due to the elaborate waterways El Gouna has a marina to stroll around in the evening with many good restaurants and bars.
The Diving
The diving in El Gouna offers a good mix of reef and wreck. Most of the Northern Hurghada dive sites like Sha'ab El Erg, Uum Gamar and Careless can be reached also the four wrecks of Abu Nuhas and on a special trip the famous Thistlegorm wreck and its sister-ship, the Rosalie Moller.
Shore Diving + Course – PADI and SSI Dive courses are available. 
Boat diving + Trips –
Oceans Red Sea offers all-inclusive boat excursions. Choose from full or part day trips with family and friends. Snorkel, swim or simply relax on a comfortable boat with a welcoming, professional crew. Trips depart at reasonable times so there's no rush in the morning! The guides are amongst the best in the Red Sea, taking you to amazing sites and sharing useful tips on snorkelling and marine life facts.
Where to stay
El Gouna is a great place to stay and especially if you are on a family holiday. Prices and availability change daily so contact us directly for the best offers. 
Après Dive
The main marina, Abu Tig in downtown El Gouna has restaurants, bars and shops. There are tour desks in most hotels' lobbies where one can book many activities, including kite surfing lessons, desert safaris and day-trips to the temples and the Valley of the Kings in Luxor.
Getting there
Direct flights form the UK 
Want to discuss the right Red Sea diving holiday for you?
Get in touch with our diving holiday experts for inspiration, advice and the latest deals
Marsa Alam has a very wide range of different in-water experiences to be had, from diving or snorkelling on a shallow wreck near shore,  snorkelling with dolphins, diving with turtles or even an occasional dugong, to exploring the incredible offshore hard-coral fields and dramatic walls.
The Diving
Emperor Divers is a reputable dive operator established in 1992 and with a reputation for combining a highly professional, safe and organised service with a warm welcome, friendliness and a sense of fun. We also work with a number of other well respected dive centres throughout the region.
Where to stay
Hotels in Marsa are situated in the gated resort of Port Ghalib and along the coastline of Marsa Alam. Port Ghalib is a purpose built resort with many different types of hotels to choose from. 
Après Dive
Unlike the larger resorts of Hurghada and Sharm El Sheikh, Marsa Alam is tiny so the town's après dive is almost non-existent, but most resorts have their own dining, shopping and entertainment options. If you fancy a night outside your resort, you'll find some decent bars and restaurants on the waterfront in a pleasant setting at Port Ghalib, which is the departure and return point for the dive boats.
Getting there
A weekly direct flight leaves from Gatwick. Flight time from the UK is approximately 5 hours. Transfer from airport to hotel is between 10 minutes to 1 hour (or possibly more) depending on your choice of hotel and its proximity to the airport, but many popular hotels are within 15 minutes.
Alternatively Hurghada Airport offers more UK flight options and can often be better value. The airlines offering flights to Hurghada are TUI and easyJet, flying from many regional airports.
Flight time from the UK is approximately 5 hours. The cost of a round-trip transfer from Hurghada Airport to your liveaboard in Marsa Alam is £21 and transfer time is approximately 3 hours.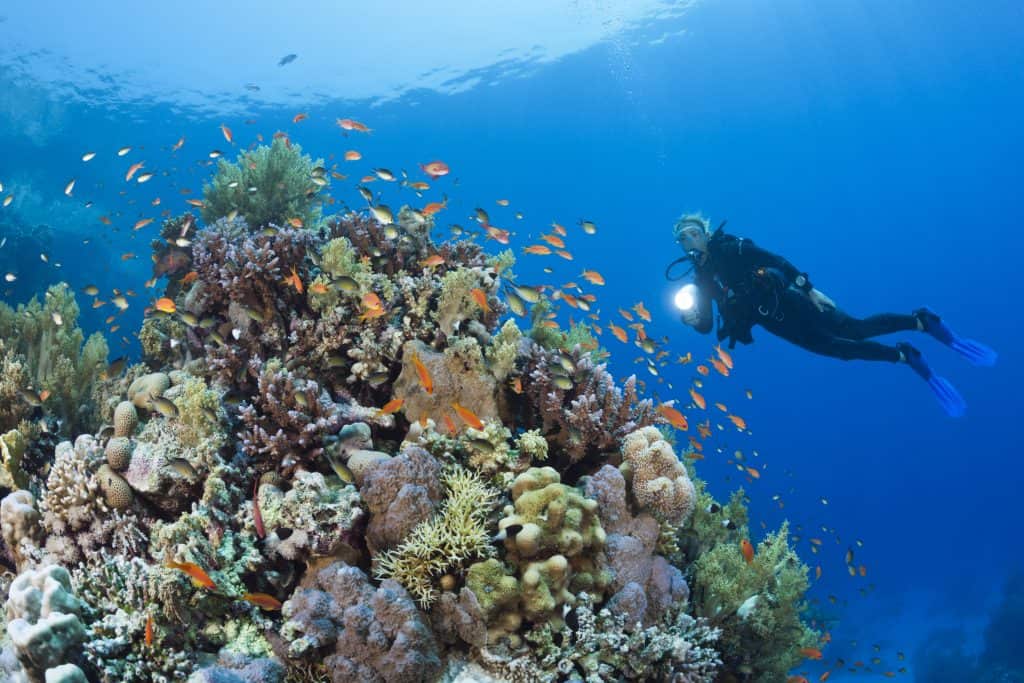 Whether you are looking for a cheap dive getaway or
something a little more luxurious, we have tried them all
and offer a selection of the very best Red Sea
liveaboards and itineraries

Both learners and experienced divers will love all that
Red Sea resort based diving has to offer. Choose from
small, boutique hotels to action packed all inclusives.
All with world class diving right on your doorstep.
Want to discuss the right Red Sea diving holiday for you?
Get in touch with our diving holiday experts for inspiration, advice and the latest deals
Book your diving holidays with the experts. Fantastic offers from the Diverse Travel team for you!
RED SEA DIVING
LIVEABOARD OFFER
14 – 21 December 2023
NOW from JUST £1059pp
RED SEA DIVING
RESORT OFFER
11 – 18 January 2024
NOW from JUST £995pp
MALDIVES DIVING
LIVEABOARD OFFER
13 – 21 January 2024
NOW from JUST £2235pp
RED SEA DIVING
RESORT OFFER
24 February – 02 March 2024
NOW from JUST £829pp
GRENADA DIVING
RESORT OFFER
28 February – 06 March 2024
NOW from JUST £2395pp
SOUTH AFRICA DIVING
RESORT OFFER
10 – 18 January 2024
NOW from JUST £1725pp
Want to discuss the right Red Sea diving holiday for you?
Get in touch with our diving holiday experts for inspiration, advice and the latest deals
Our Safe Payment Guarantee
Diverse Travel is a Member of the Travel Trust Association (TTA), part of The Travel Network Group, the UK's largest consortia of independent travel businesses. This means that when you book your holiday with us, we give you a guarantee that 100% of your money is protected against our or our suppliers' failure, under our ATOL.
Insights, recommendations and dive experiences from our team.
Blog
Red Sea dive veteran John (25 trips and counting!) takes a fresh look at diving in Egypt with a trip to Roots Red Sea. Having
Read More