Tailor-made Malta Diving Holidays.
3 hours from the UK, Malta, Gozo and nearby Comino offer divers and holiday makers a close-to-home budget friendly holiday destination. 
Clear waters, wrecks and a variety of underwater landscapes  make these islands a perfect holiday destination for all levels of diving from beginners to technical divers. 
The islands long tourist history also gives travellers from the UK a large choice of holiday activities pre and post dive.  
With easily accessible dive sites offering great visibility, caves, overhangs and swim-throughs, with few currents, Malta is an ideal diving holiday location.
Malta and Gozo also hosts an impressive collection of ship, plane and submarine wrecks, both historical and artificial, hence it's long-held reputation as a  wreck diving holiday destination.  Sister islands Gozo and Comino also offer endless rugged coastlines full of natural beauty and great underwater landscapes.
All Malta, Gozo and Comino holidays are tailor made so contact us for the latest offers… 
Never miss a deal
The Latest Diving Offers & News Direct to Your In Box
Malta + Gozo Diving Guide

The closest and most varied Mediterranean Dive Destination
Divers have been diving Malta and Gozo for over 30 years. Surrounded by warm clear waters – some of the cleanest in the Mediterranean – visibility can be up to 30m in calm seas and more than 100 accessible dive sites it's easy to see why this is such a popular dive destination for UK travellers. Underwater, strange rock formations range around dramatic caves, chimneys, and there are drop offs up to 50m, full of marine life.
Exploring Malta and Gozo 
In Malta nearly all the dive sites are reachable from shore, so there's plenty of time to enjoy the areas other holiday benefits.  Malta is also home to a myriad of holiday extras perfect for families, foodies and sun-and-sea seclusion.
Nearby, diveable in a few hours,  the islands of Gozo and Comino offer something more for divers looking to get away from it all. It's topographical variation, both above and below the water,  means you're see incredible caves, hugh structures and unusual formations. Easy to see why for UK based divers it's a popular return visit holiday destination.
Dive season:  Holiday all year, peak April-September 
Best time to dive: June-September 
Flight time from UK: 3+ hours
Diving levels: All levels 
Would suit: Wreck Divers, independent travels, families. 
Notable for: Wrecks, caves, shore dives. 
Accommodation: Apartments + independent hotels. 
What you'll see: Underwater landscapes, the Blue Hole, cathedral like caves, wrecks. 
Malta, Gozo and Comino dive holidays are mainly based from our partners on the North Coast of Malta with easy day trips available to Gozo or Comino. Gozo also makes a solid holiday destination for UK travellers looking to get away from it all.
Diving is based around your level of dive experience and style of diving from wrecks to marine life. Here's our guide of what to see and where to see it…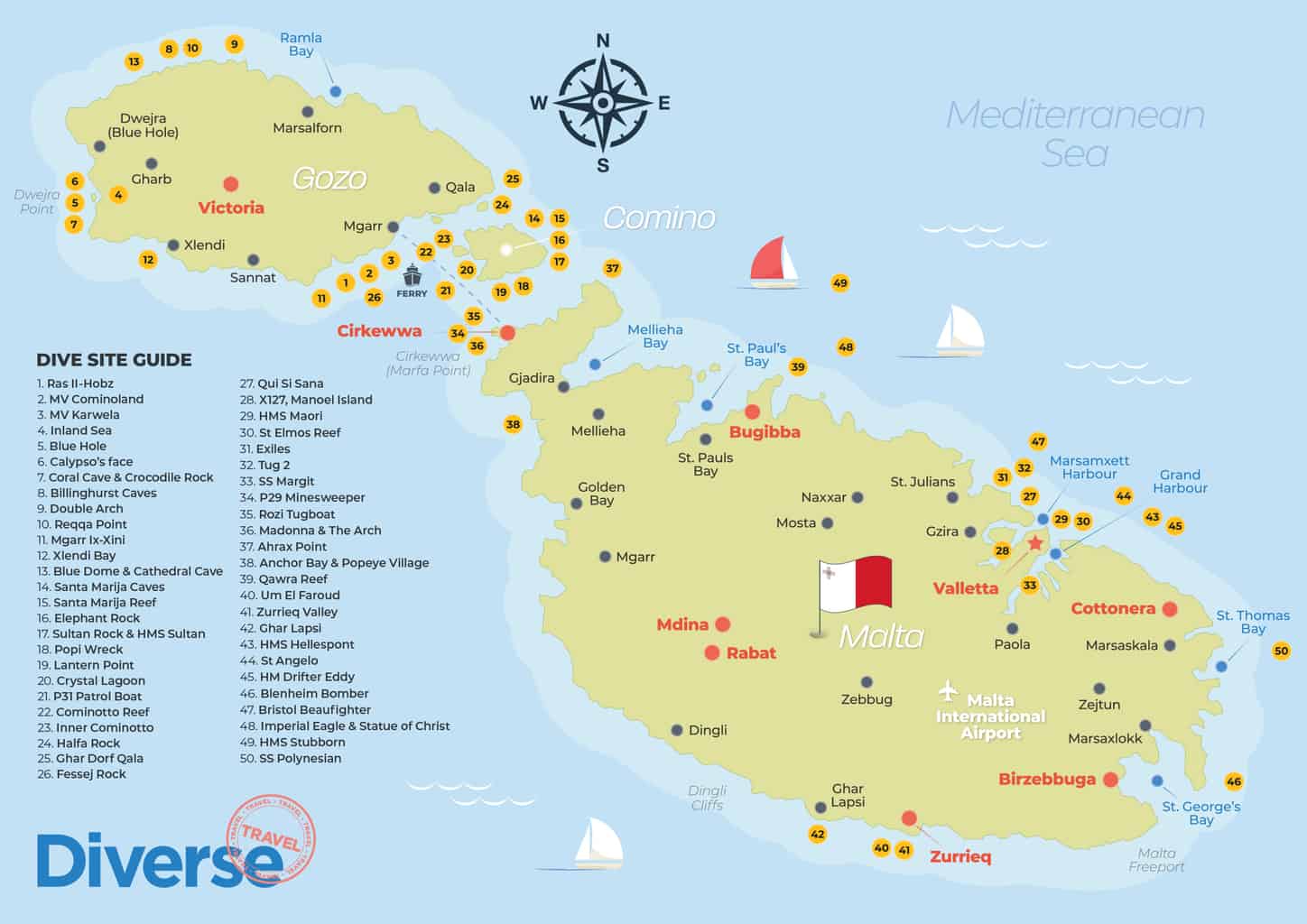 Where are the best places to dive in Malta?
The main coastal resorts and larger beaches are in the northern part of Malta. Although most people don't come to Malta for a beach holiday the bays in the North are some of the best: Mellieħa Bay, Għajn Tuffieħa and Golden Bay are some of the best. In Gozo, the most beautiful beach is Ramla l-Ħamra, a large beach of unusual red sand nestling by countryside.
Diverse's diving is based out of St Paul's bay, perfect for both easily accessible sites and local life. Diving here is varied and changes daily so you're rarely dive the same place twice. The area has long been a favourite for wrecks divers but there's plenty on offer for those divers who don't want to visit underwater structures.
Where are the best places to dive in Gozo & Comino?
Nearby the islands of Gozo and Comino offer something different for those holiday makers eager to get away from the crowds or for people returning to the area for a second of third visit. Less about wreck diving and more about underwater landscapes and marine life, what the islands don't have in buzzing nightlife they make up for in natural "away from it all" holiday experiences. 
Learning to dive in Malta
With over twenty years of dive education and experience Malta is a safe clean place to learn to dive.
Our colleagues at Maltaqua have been running English speaking courses for many years and have trained many a Diverse traveller. Malta is the perfect holiday destination to take the open water part of your PADI or BSAC course.
In and around Malta 
Malta has a rich and varied cultural history with plenty of attractions and great food if you're looking for a classic Mediterranean holiday. Nearby  islands Gozo and Comino are quiet options for nature lovers and travellers looking to get away from it all. 
Want to discuss diving holidays in Malta? 
Get in touch with our diving holiday experts for inspiration, advice and the latest deals
Malta's Northern coast is full of life and a large range of dive sites, enough choice for an action packed week away with dive sites changing daily.  For an easy option our dive partners at St Paul's Bay Maltaqua provide diving for both beginners and experienced divers. Their English speaking team have been working with Diverse for years, so they know exactly what our clients are looking for. 
With easily accessible sites a short ride away diving isn't limited to the area of your accommodation, which means you'll never get bored or dive the same site every day. Malta is a great base to explore the other islands. 
Diverse recommends:  The Wreck of the Um El Froud, HMS Maori, The Statue of Christ and The Imperial Eagle, sister ship of Cousteau's Calypso (just off St Paul's Bay) 
More than just a dive holiday destination.
Brimming with cultural and natural beauty, Malta is a uniquely charming and world-class holiday destination with a lot to see and do out of the water.
It's size makes it easy to explore, and with over 300 days of sunshine – the capital, Valletta, was recently voted the sunniest city in the whole of Europe – Malta is an all year round destination. 
With over 7000 years of history  the Maltese islands have been described as one big open-air museum. Narrow meandering streets, Renaissance cathedrals and Baroque palaces, there's a lot to feast the eyes.
For foodies the cuisine is the result of a long relationship between the Islanders and the many civilisations who occupied the Maltese Islands over the centuries. Traditional Maltese food is rustic and based on the seasons. Look out for Lampuki Pie (fish pie), Rabbit Stew, Bragioli (beef olives), Kapunata, (Maltese version of ratatouille), and widow's soup. Maltese vintages are winning several accolades at international competitions. Grape varieties grown on the Islands include Cabernet Sauvignon, Merlot, Syrah, Grenache, Sauvignon Blanc, Chardonnay, Carignan, Chenin Blanc and Moscato. The indigenous varieties are Gellewza and Ghirghentina, which are producing some excellent wines of distinct body and flavour.
Even if you're not diving don't miss a boat trip to Comino's Blue Lagoon for the ultimate in azure water.
Getting there 
Just over 3 hours from the UK serviced by a large choice of airlines means there are always great deals available.
Want to discuss diving holidays in Malta? 
Get in touch with our diving holiday experts for inspiration, advice and the latest deals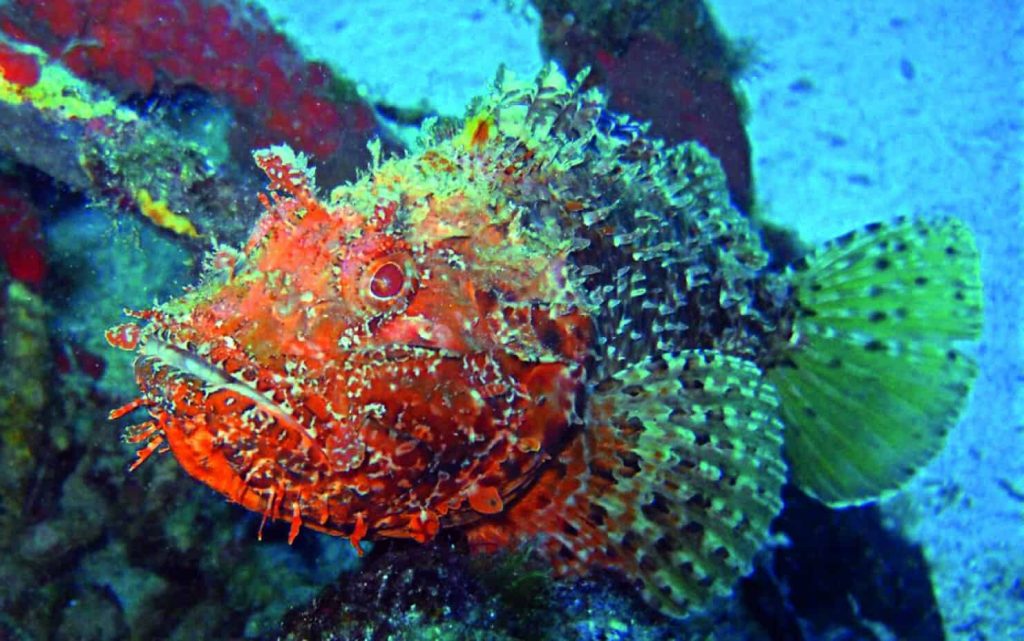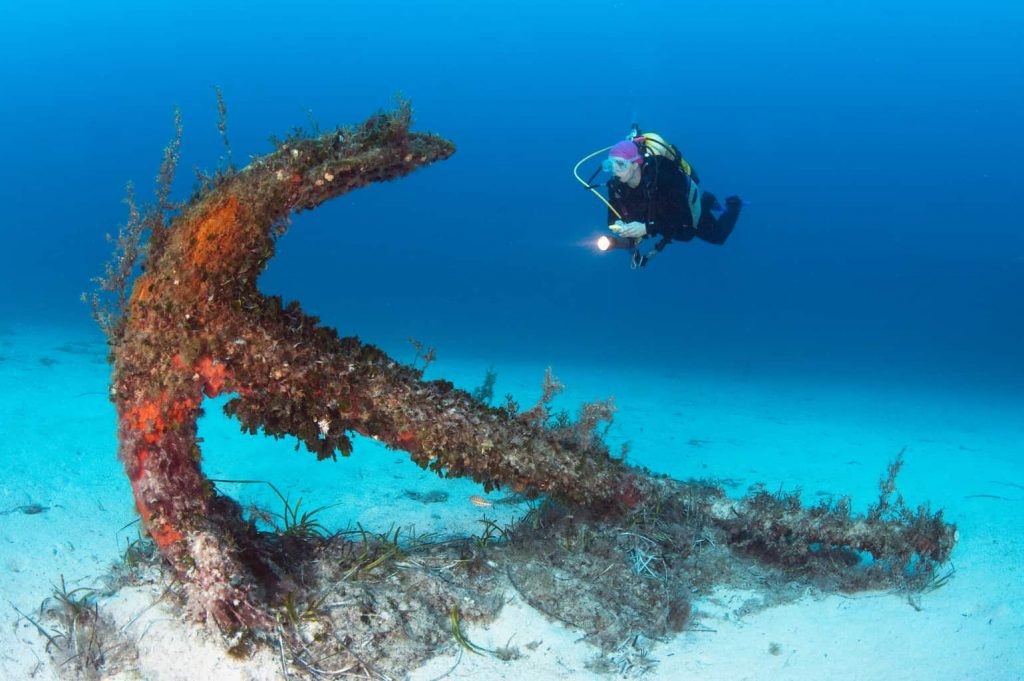 If wrecks aren't your thing Gozo is a back-to-nature holiday destination with some world famous unusual dive sites. 
Due to Gozo's volcanic landscape the underwater topography is stunning. Caves, swim throughs and arches are everyday sites on a Gozo dive. 
Her's a few of the underwater wonders on offer for divers in Gozo: 
The Blue Hole: Drop 16m into an incredible cave.
The Azure window: One of the areas most photographed spots divers enter from an inland lake to drop down through an opening in the rock to swim out towards the Azure window which looks out to the open Ocean. If you're thinking of buying an underwater camera or taking up underwater photography this is a place to put on your list and not having to launch yourself off a boat with equipment in hand make dive life a lot easier. 
Billinghurse Cave: gives divers a great shore-based cave diving experience. You'll need to have dived and feel confortable in caves or dive with an experienced cave diver but if you can tick those boxes on your dive log it's well worth the effort. The cave has ropes to guide and anchor you. It's a very rewarding dive which will live in the memory, long after your holiday is over.
Out of the water Gozo is a great alternative base with a slower calmer pace of life. What it lacks in Maltese tourist sites it makes up for in unspoilt nature. 
Want to discuss the right Malta diving holiday for you?
Get in touch with our diving holiday experts for inspiration, advice and the latest deals
A special day trip, laid on by most dive centres at least once-a-week Comino offers something very different. 
Famous for Comino caves, with swim-throughs and arches it's a great opportunity to see a huge shoal of fish which hang around the entrance to the caves. So used to divers they will follow you around and some divers say they are partially to ham sandwiches but that's not a Diverse tip!
For wrecks The P31, a US military boat famous for being the boat John F Kennedy Captained during the war. Small and accessible it make a perfect wreck  dive at 30m.The water and visibility is so blue you'd think you weer diving in the Bahamas and the fish which follow you around the bridge are sight to see.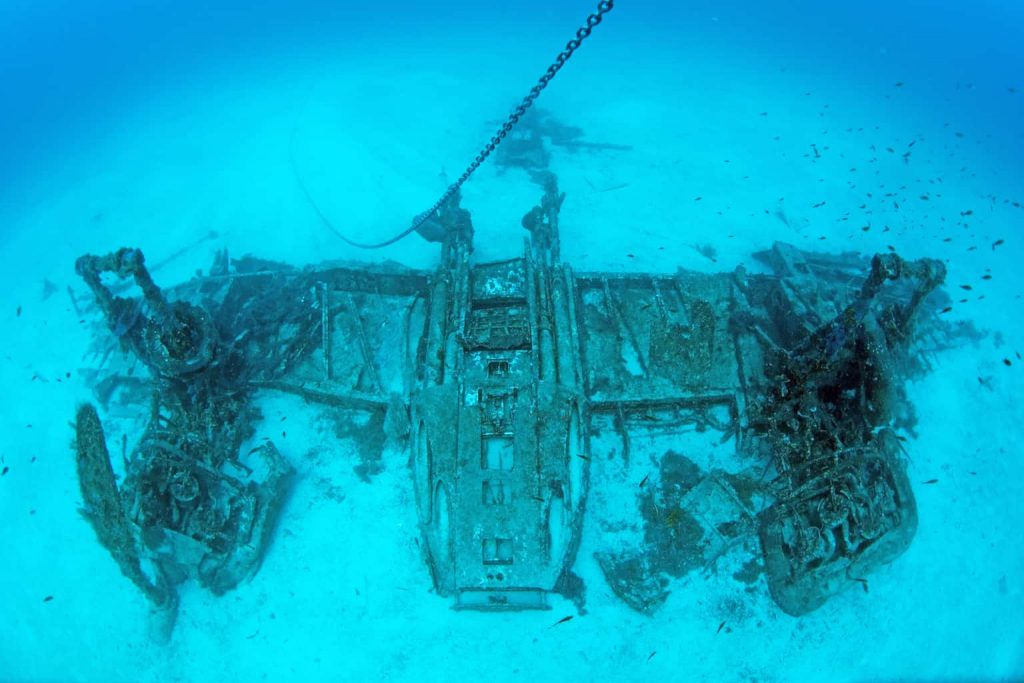 Want to discuss diving holidays in Malta? 
Get in touch with our diving holiday experts for inspiration, advice and the latest deals
There is plenty to explore in Malta. Valletta, Malta's capital is a World Heritage City renowned for its prehistoric artefacts, impressive Grand Master's Palace and majestic St. John's Cathedral
Gozo is one of the few remaining unspoilt islands in the Mediterranean. Its simple, rural charm draws divers back time after time.
Want to discuss the right Malta diving holiday for you?
Get in touch with our diving holiday experts for inspiration, advice and the latest deals
Book your diving holidays with the experts. Fantastic offers from the Diverse Travel team for you!
RED SEA DIVING
LIVEABOARD OFFER
14 – 21 December 2023
NOW from JUST £1059pp
RED SEA DIVING
RESORT OFFER
11 – 18 January 2024
NOW from JUST £995pp
MALDIVES DIVING
LIVEABOARD OFFER
13 – 21 January 2024
NOW from JUST £2235pp
RED SEA DIVING
RESORT OFFER
24 February – 02 March 2024
NOW from JUST £829pp
GRENADA DIVING
RESORT OFFER
28 February – 06 March 2024
NOW from JUST £2395pp
SOUTH AFRICA DIVING
RESORT OFFER
10 – 18 January 2024
NOW from JUST £1725pp
Because we're not a mass tourism company, you'll get a highly personalised service. Think of us as your personal travel consultant – don't be shy, ask us for anything and leave the rest to us.
Love sharks? Can't get enough of wrecks? Maybe you want to experience something new. Our knowledgeable team are here to help you get the best out of your next dive holiday.
Our Safe Payment Guarantee
Diverse Travel is a Member of the Travel Trust Association (TTA), part of The Travel Network Group, the UK's largest consortia of independent travel businesses. This means that when you book your holiday with us, we give you a guarantee that 100% of your money is protected against our or our suppliers' failure, under our ATOL.
Insights, recommendations and dive experiences from our team.
Blog
Red Sea dive veteran John (25 trips and counting!) takes a fresh look at diving in Egypt with a trip to Roots Red Sea. Having
Read More