Simon and Katy head to Malta and Gozo to see for themselves why the Maltese Islands are so incredibly popular with Diverse Travel guests.
The day had finally arrived! After countless lockdown weeks juggling work, home-schooling and not keeping very fit, it was at last time to fly away and get wet diving! I have been selling holidays to Malta and Gozo for 18 years now but, in all this time, I have never managed to see the sights below and above the water for myself.
Feedback from customers has always been glowing and very positive, so I was really excited to finally get the opportunity to visit. My partner Katy would be joining me too and couldn't wait to start her PADI Open Water referral course with St Andrew's Divers Cove on Gozo. Time to catch that plane!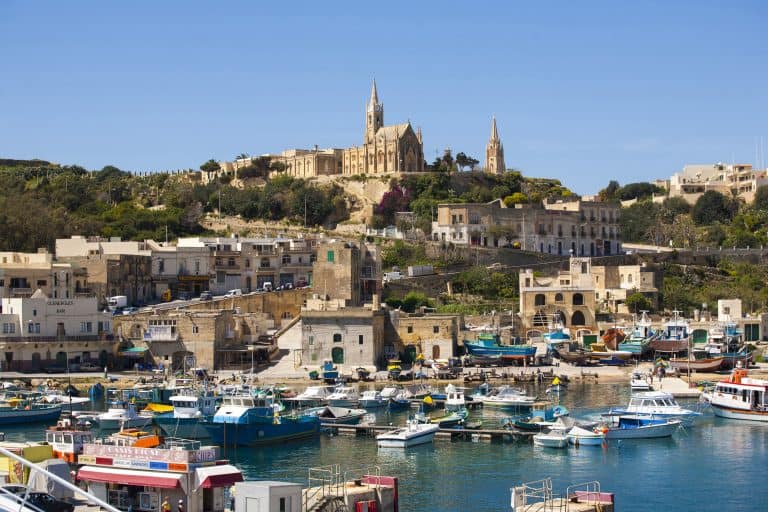 Travelling to Gozo
Parking at Stansted Airport, we were soon on the long-stay bus heading to the terminal. We weren't worried about travelling through the airports or sitting on a plane wearing our face masks. Not much seemed very different, apart from some new Covid-19 signage, bottles of hand sanitiser placed at various points… oh and everyone was wearing a face mask! Quite a surreal scene at first glance.
At the Airport
The Ryanair check in queue appeared to be quite long but this was mostly due to everyone adhering to the new social distancing rules. It didn't take long to drop off our hold baggage and, with the boarding paperwork in hand, we headed through security. Again, the queues appeared long, but it was well-managed, and we were quickly airside.
With not much time to wait before our departure gate was open we took the monorail.  All travellers wore face masks and social distancing was mostly in place throughout the airport. The queue on the air bridge and entering the plane was a little cosy at times, but with everyone donning face masks, we felt safe.
Once sat in our seats, the doors closed, and normal service resumed onboard. Our plane was full and once airborne the cabin crew walked back and forth with their trollies, wearing face masks and selling drinks and snacks. We were relieved to see that the toilets were open as normal!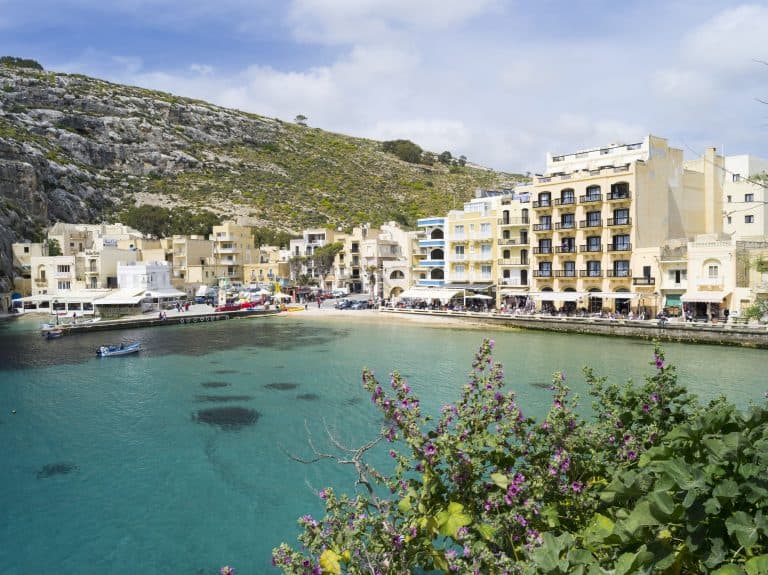 Arriving in Malta and onward to Gozo
Landing in Malta everyone stood up, eager to get their bags and get to their destination. Social distancing was not possible on the plane but at least we were all wearing face masks!
Inside the airport,  all of the local staff  were wearing masks or were behind screens. The airport seemed calm and ordered. Meeting our driver outside the airport, we began our 30 minute drive to the Gozo ferry terminal. He was wearing a face mask and we kept ours on, as is the policy during transportation.
Getting to Gozo
On arrival at the terminal, we were rushed through the ticket gate to catch the next ferry. As we stepped on, the doors closed behind us – phew! But we needn't have worried. Ferries run from Gozo to Malta (and back) every hour, 24 hours a day, 365 days a year! Our crossing took no more than 15 minutes and the sea was extremely calm.
Everyone gathered by the ferry doors to disembark with their face masks on and when the doors opened a delicate stampede ensued!
We met another driver outside arrivals and drove 30 minutes to our home for the next two nights, St Patrick's Hotel in Xlendi Bay. 
Our home in Gozo
The St Patrick's Hotel hotel reception was very quiet when we arrived at close to midnight. A friendly night porter sat behind a huge Perspex screen. Once we had completed the hotel registration form, room key in hand, we were soon settling in and relaxing.
We were due at the dive centre by 8.30am the next morning. We were up in good time and what better way to start the day standing on your balcony, looking out at the beautiful Mediterranean Sea with the warm sun rising in the background.
Breakfast is usually a buffet but due to Covid-19 it is currently served at your table. A Continental or full English breakfast was available with tea or coffee and a choice of fruit juices. Service was friendly and quick, and waiting staff were all wearing face masks.
Let's go Diving!
After a hearty breakfast, we walked to St Andrews's Divers Cove.  We were greeted by the owner, Mark, who was busy coordinating all of his divers / instructors and groups for the day.  Katy and I completed our dive centre registration form and a new Covid-19 medical form issued by the local government – just a few short extra questions.
What has changed during COVID?
Everyone seemed to be walking around quite freely inside and outside of the dive centre, so we asked how things had changed during this time? For the customer, he said the only change is that there is an extra form to complete.  Staff are asked to wear face masks in vehicles to dive sites. Divers still rinse their own dive equipment at the end of every day and leave kit in their designated boxes. All rental equipment is disinfected once a diver has finished using it. The centre also recommends that divers have their own boots to dive with.
Getting ready to dive
Katy had already completed her PADI theory online and passed with flying colours! The plan was for her to complete her five confined water and four open water dives on a 1 to 1 basis with her instructor,  Andrew, over the next two days.  Katy was fortunate to have been allocated her own personal instruction, and was soon whisked off to get started on her course.  Time for me to get my dive kit on, ready for my first dive!
I would be diving in Xlendi Bay today with my new diving buddy plus another couple, Emma & Rog – an orientation dive this morning, and a second dive after lunch.
What's the diving like?
Dive sites on Gozo are accessed mostly from the shore. St Andrew's Divers Cove has several vehicles and the drive time to most shore locations is around 30 minutes. When you arrive at the dive site, all vehicles are locked but it's recommended you don't take valuables with you 'just in case'. The dive centre also has a boat, which is moored in Xlendi Bay or sometimes close to the ferry port.
Kitted up, we walked just five minutes from the dive centre to our entry point along the left side of Xlendi Bay. There are several different slopes down to a small rock platform, with metal steps to get into the sea.  BCD's inflated, we walked carefully down the steps (quite slippery) into the sea where we put our fins on.
Our first day of diving!
Our dive started at 5m with a leisurely swim across Xlendi Bay. The sea was welcomingly warm and the visibility was amazing!  Fish life wasn't abundant or markedly vibrant, but I was mightily impressed by the topography of the undulating seabed and the rock faces plunging into the Mediterranean. A lovely swim-through tunnel created wonderful lighting and great vis.
Dive two took us on a different route through the Bay. Finning our way to the opposite side, we dived with the stunning cliffs on our right shoulder, then crossed back for the second half of our dive. As we floated along, a handful of small fish swam by, with many stopping to feed off the algae-rich rockface. We passed beneath several overhangs, all beautifully lit where the bright Mediterranean sun penetrated through paper-thin cracks.  A couple of small, open caves were also explored.
My group was back at the dive centre by 3.30pm and changed in no time. Two lovely, relaxing dives were just what I needed and the perfect introduction to Gozo.
But where was Katy?
As it turned out, Katy didn't finish until 6pm! Her instructor Andrew had tried to pack in as much as he could in the first day. Having done extremely well practising her underwater skills, he announced that she was a natural!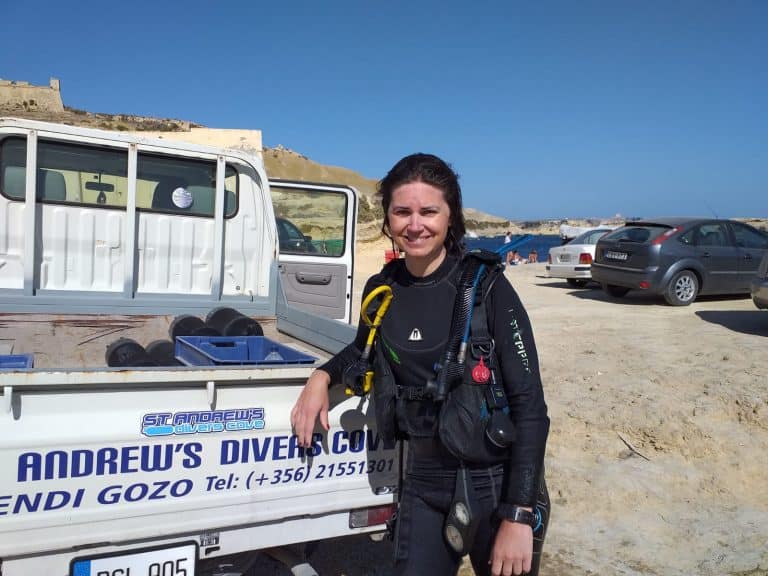 Time to relax
A quick freshen up back at our hotel, and it was time for dinner.  Xlendi Bay seafront was very lively in the evening and all the restaurants were buzzing. Such a great atmosphere. Having asked the dive centre for local recommendations for food, we chose Churchill's restaurant, on the left side of the bay, just a short walk from our hotel.
All tables were full (a great sign).  After a short wait we were seated right beside the water's edge with a wonderful view of Xlendi Bay. The menu was extremely varied, with mouth-watering meat and fish dishes, salads, pasta and pizzas. I love pizzas, so though it would be rude not to have one – opting for the Churchill special with numerous delicious fresh Mediterranean toppings. Katy chose the local catch of the day, sea bream, with some local veg after asking the waitress for her recommendation. Our food was delicious, and our plates were soon empty; we were absolutely stuffed – no room for dessert tonight!
Day two – a wreck… and something to celebrate!
Day Two for diving in Gozo and an 8.30am start again. Katy and Andrew had concocted a plan to finish her course by the end of the day and I was diving from shore, just 30 minutes' drive away with my new buddies.
Driving through picturesque villages and towns, we began our descent towards our dive site.  Parking our pick-up truck alongside several other diver's vehicles, we made our way to the kit up area.  This used to be where they harvested sea salt, so it was very flat and rocky.  Picking up our fins we walked to the entry point.  A handrail steadied you as you inched into the sea over a very smooth and slippery rock bed until you could float on your back to put on your fins. With everyone ready, we descended to start our dive.
Our second day of diving!
Clear blue skies and bright sunshine meant that visibility was great. Swimming with the coastline on our right we explored huge boulders and the rock face to find life. We spotted several brightly coloured seaworms and the eyes of a brilliantly hidden octopus on the seabed, tucked tightly into a rocky nook. The underwater landscape continued to amaze me, and it was lovely to see small fish activity along the way.           
My afternoon dive was a boat dive to the P31 Patrol boat wreck off Comino. A deliberately sunk boat, with all windows and nasty bits removed, the P31 sits on a bed of sand at 18m at its deepest. Perfect dive for all levels, with large openings and interior to explore; it's also easy to navigate in the great visibility.
I was back at the dive centre by 3.30pm again but Katy was nowhere to be seen! Eventually catching up with her at 6.30pm as she was completing her final course paperwork, as a newly-qualified PADI Open Water Diver! Katy said the past two days had been totally non-stop, mentally challenging and very tiring but in the end, well worth it!
Congratulations Katy!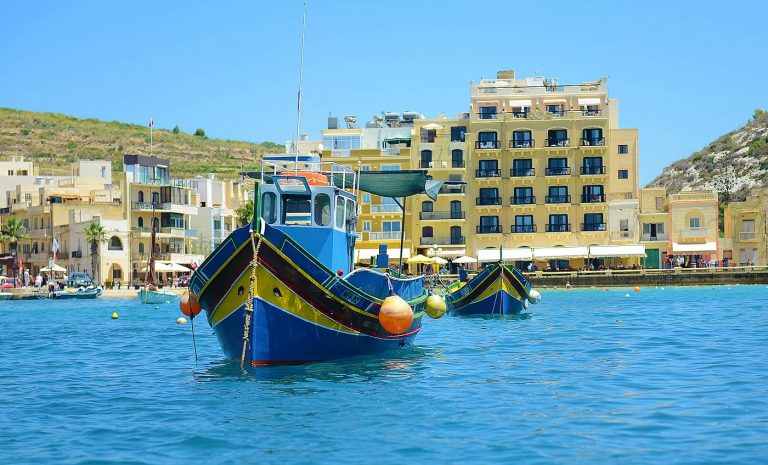 We couldn't wait to go diving together but it was sadly time to say goodbye to Gozo and continue our adventures in Malta. Saying our thanks to the  St Andrew's Divers Cove Team we grabbed our luggage from the hotel, jumped in a car back to the ferry port for the 7.30pm ferry back to Malta.
Gozo, St Patrick's hotel and St Andrew's Divers Cove had made us feel very welcome.  We both agreed we would love to return someday soon – we have both fallen in love with the picture-postcard setting of Xlendi Bay !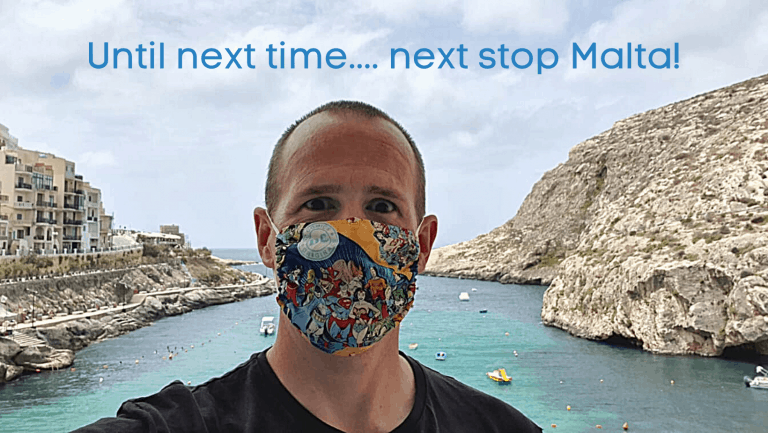 Interested in diving in Malta or Gozo?
Gozo is ideal for:
Sunny short breaks – just over three hours flying time & a short ferry crossing
Shore diving fans and those who enjoy exploring amazing topography
Learner Divers or those who want relaxed diving in crystal clear waters
A quiet, unhurried holiday in a beautiful setting.
Want to find out more about Gozo – click here for our destination guide
If you would like to chat about diving in Gozo, please give Simon a call on 01473 852002 or email us and he will be happy to tell you more!