Simon and Katy head on to Malta for the second part of their trip to the Maltese Islands.
After just two days on Gozo, Katy and I were back to Malta! We were met outside the ferry port and driven to our hotel, Dolmen Hotel, located in St Paul's Bay. The scenic 30-minute drive took us through some beautiful towns and villages, filled with quaint, medieval-looking buildings, with wonderful distant views of villages and fortified towns melting into the sunset.
On arriving in St Paul's Bay, everything looked bigger, more modern and busier than we had experienced on Gozo. Arriving outside Dolmen Hotel, we were greeted with a sweeping drive to reception, tall glass windows and numerous balconies. Quite the opposite of the small, quaint St Patrick's Hotel on Gozo.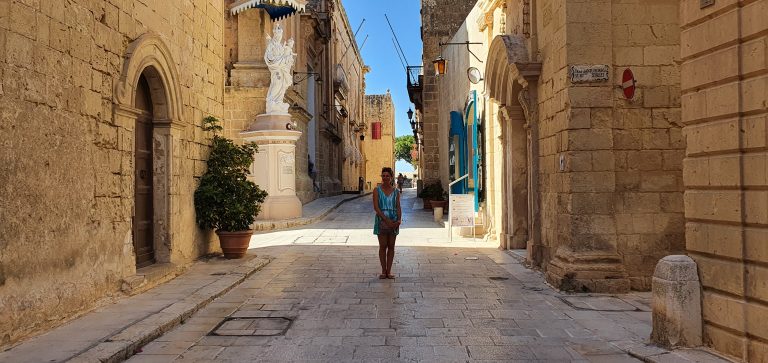 The Dolmen Hotel
The Dolmen looked a little like a conference centre at first glance but as you explore the grounds, you find it offers lovely spacious gardens and a couple of attractive swimming pools, including an infinity pool. Hand sanitiser gel was available throughout the reception and outside restaurants. Every member of the hotel team wore face masks. The reception and restaurant desks had Perspex screens fitted.
Plenty of well spaced out sun loungers surrounded the busy pool areas. Guests were not expected to wear face masks in the  outside areas, but are encouraged to do so in all covered areas.
Breakfast the following morning was very easy and relaxed. With COVID-19, everything a guest might want for breakfast is handed to them by one of the restaurant staff, all either wearing face masks or a visor. Whether it is a cup of coffee, a glass of fruit juice, a bowl of cereal or a continental breakfast, you lined up and the staff would hand the items to you. The restaurant wasn't too busy at 8am, so it was easy for the early morning divers to find a clean table.  On our last day we arrived at 9am and breakfast room was heaving with guests!
Let's go Diving – Together!
Maltaqua picked us up at 8.30am for the short 15-minute drive to their dive centre. On arrival, we met with the founder and owner Agnes, her daughter Simone and Anna. Registration paperwork completed, we were sized up for our rental equipment by the Maltaqua dive team. Customers renting gear are given a light dive kit bag to store everything in. All rental gear is disinfected after the day's diving and you will normally get the same wetsuit, BCD and fins back the next day.  They prefer not to rent boots for hygiene purposes (they don't fully dry overnight), so they recommend you bring your own to use.
All ready for our first dive!
We drove 30 minutes to a dive site at the south of the island called Ghar Lapsi. It was such a hot day and the ground was scorching! I remember this vividly as I didn't have dive boots, so I was dancing around to find shaded areas.
Katy was super excited as this would be her very first dive as a qualified PADI Open Water diver and not forgetting, with her super boyfriend as her dive buddy 😉
What's the diving like?
With full dive gear on, we walked down a very steep road to the entry point. Imagine an enormous rock pool, with a gap on the left side to swim out to sea. The rocky steps down into the water were a little slippery without boots.  Our dive began with a swim through the 'rockpool' area – a favourite place for local families taking a dip and snorkelling.  Once we swam out and started our dive, we had endless space to float around in. Both dives were relaxing with great visibility. The first thing we spotted was an octopus which was wonderfully camouflaged amongst sea grass in a small nook.  Several colourful sea worms meandered through the clear water and Katie experienced her first lovely swim-through.  All around, the beautiful lunar-like underwater landscape continued to amaze us.
We were back at the dive centre by 4pm. With all our equipment  stored away safely, we were taken back to our hotel.
Day two – well-known Cirkewwa and the Rozi
An even earlier breakfast this morning! Picked up at 8.15am we returned to the Maltaqua dive centre. Our dive gear and tanks loaded onto the van, we headed out to our dive site for the day, Cirkewwa, at the northeast tip of Malta.
Cirkewwa is one of the most popular dive sites on Malta and is right next door to the Malta to Gozo ferry port. The drive there took around 30 minutes, and the dive centres have their own car park right beside the entry point. Surprisingly, we weren't the first vehicle to arrive.  By the time we had our dive gear on, the car park was completely full of divers as far as you could see. We were pleased to hear from our dive guide that even if it looks busy on land, once you get into the water, you probably won't see anyone else.  The dive site is so vast!
Important stuff – snacks and bubbles!
A resident food van on site serves hot /cold food and drinks. The queue was quite long at times, so you might prefer to take your own sandwich or snacks and just relax in the sunshine. A little tip – there wasn't much shade available and it was a scorching hot day. I sat inside the van at one point with all the doors open but it would be wise to take an umbrella!
Over two dives, we saw lots of schooling fish and the occasional parrotfish feeding. Swim-throughs and huge boulders and rocks that formed the drop-off were an amazing sight. We also swam over a wreck called the Rozi for a spectacular birds-eye view in great visibility. The Rozi was a former tugboat, scuttled in 1992 as an underwater tourist attraction for submarine tours which has now become a popular artificial reef for scuba divers.
Our diving was over all too soon. Heading back to the dive centre, we handed our kit back, settled our bill, and were then taken back to our hotel.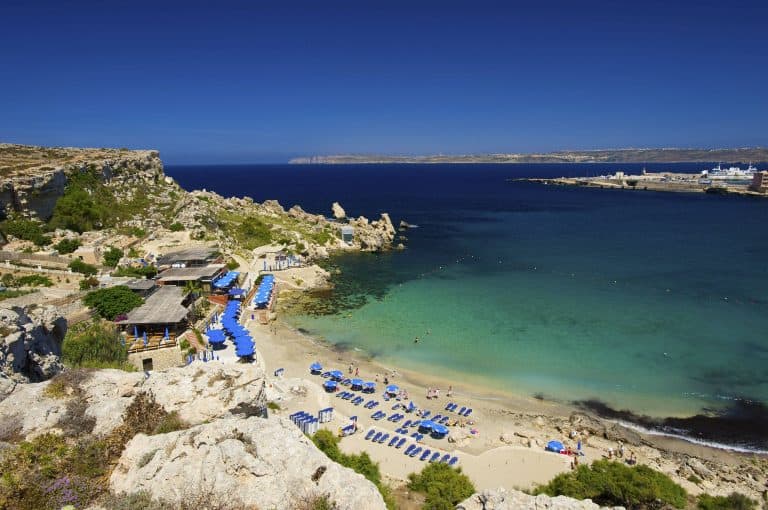 Time to hit the sights, topside!
It was our final evening and so we planned a visit to the medieval city of Mdina.  Dinner that evening was to be at a restaurant a friend had recommended called Fontanella. After a quick freshen up, we headed to the the bus station, just 5 minutes' walk from our hotel. Our picturesque bus journey to Mdina took around one hour and it was most definitely worth it!
Mdina sits atop a hill, surrounded by huge stone walls and protected by a deep moat. The city oversees many of the neighbouring towns and as we arrived the sun was slowly setting. Walking through the warm, narrow streets of the city was extremely atmospheric.  The views across the valley were simply breathtaking. Our table for two at Fontanella couldn't have been more perfect, set in between the ramparts along the very edge of the city walls. We opted for the Mediterranean platter and it tasted wonderful!
Wandering back through the narrow streets, with the sunset and the moon in the sky, we felt very lucky to be able to spend time in such a truly stunning place.
Our last day!
The following day was our last day on Malta and the last day of our amazing trip. Our flight home didn't leave until 11pm, so we booked a late check out of our room and headed for the bus station again. This time we headed towards the tiny capital city of Valletta. Friends had recommended we visit and, once again, we were so glad we did! The bus journey there took around 1.5 hours; we later found out we had caught the wrong bus!
Exploring Valletta
We spent the afternoon walking around the city sightseeing. It was another hot day, but the tall, old buildings provided some lovely shade. We made our way up to the upper Barrakka Gardens that overlook the huge, picturesque harbour. The gardens were beautiful and the viewpoints incredible. We spent ages just watching people and boats come and go!
For lunch, there were so many restaurants to choose from. Some had their own closed area with tables and others had their tables and huge umbrellas set out along the centre of pedestrianised streets. We chose one and ate a lovely lunch, talking about the wonderful places we had visited, the friendly locals we had met, and about our new diving experiences over the past few days. We had both had a truly brilliant few days on Gozo and Malta and wished we could have stayed longer!
Rather than endure a long bus journey back to Dolmen Hotel, we decided to book a Bolt car. Bolt – similar to Uber – is very popular on Malta. We downloaded the Bolt app and it was very easy to book a car and after walking to a meeting point, it arrived very quickly. The journey back took just 30 minutes and didn't cost much more than two bus tickets.
Time to return home
Back at Dolmen Hotel, we collected our luggage and waited outside for our transfer back to Malta airport. We arrived back at the airport in great time and when we got inside, made our way to the Ryanair check-in desk. We didn't have to wait too long for check in to open and once we had handed over our hold bag, we made our way to security. Departures had several places to eat and drink and a decent duty free shop. At 10pm it was still busy with passengers but there was plenty of room for everyone to move around and sit down if they wanted to. The departure gate for our flight was quickly open, so we had a short walk to our gate, and we were back on the plane in no time at all.
Trip Summary
Gozo and Malta had both been wonderfully relaxing, with a refreshing Mediterranean Sea and superb hot weather.  Clear blue dive sites filled with lovely wrecks and stunning underwater topography delighted on every dive..
Learning to dive in Malta & Gozo
Katy had great fun learning to dive on Gozo and was elated when she qualified as a PADI Open Water Diver!  Her first dive on Malta as a qualified diver was a memorable one; with a picturesque 'rock pool' entry point and diving with her first buddy (me!).  As a seasoned diver, it is always a treat to experience diving through the eyes of a newbie.  Nothing beats those first glimpses of some truly amazing topography underwater, plentiful fish and an octopus or two – not to mention experiencing that weightless, gliding feeling that we, as divers, can't get enough of! Gozo and Malta are definitely perfect locations to go if you want to learn to dive, with warm seas and calm diving conditions.
For the seasoned diver…
It was really great to be diving again after so many months and I am always happy when diving in warm water.  The fish life wasn't particularly colourful on the sites we dived and there were no big animals to see, but we knew this before we travelled anyway. The underwater topography, however, was hugely impressive – almost a lunar landscape in places.  Caves, overhangs and swim-throughs were delightful to experience in such great visibility.
I only had chance to dive on a couple of wrecks whilst in Malta and Gozo. There are so many more wonderful wrecks to dive, mostly at much deeper depths, so the destination is an absolute must for those who crave their metal.  An easy to get to destination for wreck lovers!
Which to choose .. Malta or Gozo?
In summary, divers who are looking for quaint and quiet will really enjoy Gozo. Missed our blog on Gozo?  Click here to read all about it.
If you like a little more luxury from your hotel with more facilities, busier dive sites and evenings, Malta is more for you.
Or why not combine the best of both worlds and experience both islands in a single holiday? A regular ferry schedule, and great transportation make it really easy!
The local people we met along the way at dive centres, hotels, restaurants and shops were all welcoming and friendly. The towns and cities were picturesque.  All with stunning ancient buildings steeped in history, making them an absolute joy to explore.
Finally, with just a 3-hour flight from the UK, Malta and Gozo are an absolute treat for a quick getaway. The warm Mediterranean Sea, easy-access shore diving, caves, swim-throughs, attractive fish life and many great wrecks to dive, Gozo and Malta must surely feature on all divers wish-lists. It's certainly back on mine!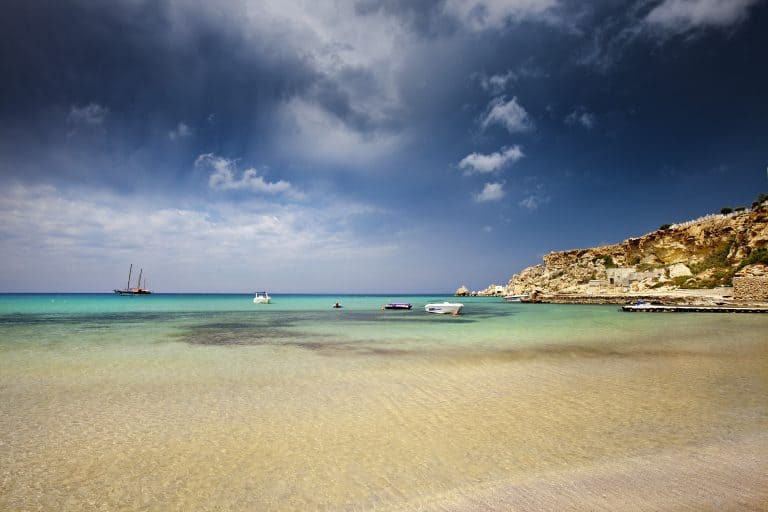 Interested in diving in Malta or Gozo?
Malta is ideal for:
Sunny short breaks – just over three hours flying time
Shore diving fans and those who want to dive some of the best wrecks worldwide
Combining fascinating culture and sightseeing with diving
A fantastic all-round holiday in a stunning Mediterranean setting.
Want to find out more about Malta – click here for our destination guide
If you would like to chat about diving in Malta, please give Simon a call on 01473 852002 or email us and he will be happy to tell you more!