You asked… we delivered! With more and more Diverse Travel guests asking for short-haul holidays, I was delighted to be invited to go and check out the diving in Croatia ahead of our launch of this new destination. Croatia has been a long time on my travel wish-list. I'd heard so much about its incredible scenery above and under the water, as well as its relaxed and friendly atmosphere.  I was really excited to see if it would live up to my expectations.
Croatia is ideal for:
Sunny short breaks – just over two hours flying time
Divers who enjoy interesting topography and critter spotting
Those who want to mix diving with culture
Anyone travelling with non-diving friends or family
Curious to find out more about Croatia – click here for our destination guide
Getting to Croatia
I travelled to Croatia at the end of July, just as the travel restrictions started to ease for many countries in Europe. Everyone is wondering what it's like to get back to air travel now and so I was happy to be able to experience this personally in order to better help our Diverse Travel guests with their travel plans.
What was the travel like?
I am pleased to say that the whole experience of flying from Luton to Split was very easy and straightforward. I felt very safe: there were hand sanitisers freely available everywhere, plenty of signs, and the airport staff were well organised. Everyone was respectful of the 2m rule.  Even in the security queue, which made the whole experience much less of a scramble than usual!
My flight was at 6am so the airport was pretty quiet.  Most of the shops and facilities were open and operating as normal. Everyone was wearing masks in the airport and I needed to keep my mask on during the flight (except when I was eating or drinking). With the flight lasting just over two hours, this was no trouble at all. I was asked to complete an immigration form on the plane (and a similar one on my return to the UK) but really, there was little different about the journey.  I arrived in Split in time for breakfast.
Arriving in Trogir
Trogir Dive Centre is situated just a speedy 15 minute transfer from the airport in lovely Okrug Gornji Bay. The whole journey had taken less time than me getting to the UK coast on a sunny weekend!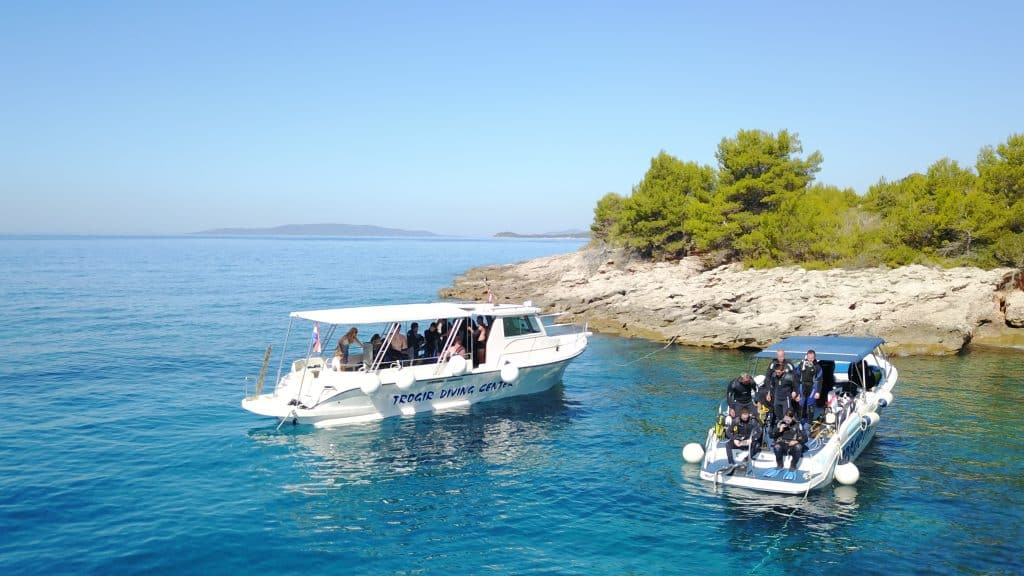 Let's go diving!
It might have been an early start, but this was a big advantage as it meant that by 10am I was already at the Trogir Diving Centre.  All ready to enjoy the sunshine and meet the very friendly team, who explained how the diving here works.
With four boats, the dive centre has plenty of choice for your diving day.  Guests can choose either 1 tank morning or afternoon dives or go a bit further afield for a 2 tank, full day trip. The boats launch just 50m from the dive centre which is really handy.  There is an excellent range of equipment to hire including 10, 12 and 15l tanks. Each boat takes around 10-12 divers as a maximum. The atmosphere is relaxed and friendly, everything you'd expect from a family-run dive centre. Cold drinks are available, and they even offer breakfast, lunch and dinner if you want each day.
I particularly loved the way the full day excursions are run here. One dive in the morning, and another in the afternoon. Nice and relaxed. At lunchtime the boat calls at a pretty village so everyone can have a wander and enjoy lunch at one of the many cafes. A great way to experience just some of what this beautiful country has to offer. Just a shame a glass of wine or beer is not allowed! 
What's the diving like and what can you see?
On my first day I opted to do a single dive, which served as my checkout dive. After an extended time out of the water, I was desperate to get out on the boat and explore. With the water a pleasant 21 to 25C at shallower depths and in the high teens at depth, I was comfortable in a 5mm wetsuit and hood.
First Impressions
My first impressions were of crystal clear water and plenty of interesting critters amongst the fascinating underwater topography. The Adriatic is well known for its exceptional clarity and the most perfect hues of blue that frame the colourful corals on the walls and sloping reefs. On my first dive I was delighted to see some grouper, a couple of morays and a curious octopus, but that was nothing compared to my discoveries later in the week.
You know what it's like, you get to the dive site and they say, yesterday we had 5 or 6 of whatever the local must-see creature is, and you think what's the betting they are not about today! But just 10 minutes boat ride from the dive centre is the best place to find stunning Yellow Seahorses. The dive centre team are exceptionally guest-orientated and don't want you to go away disappointed. They also know the dive sites like the back of their hands, so ask and (fingers crossed!) you shall find! Well, we did… two beautiful, tiny Yellow Seahorses absolutely made my day.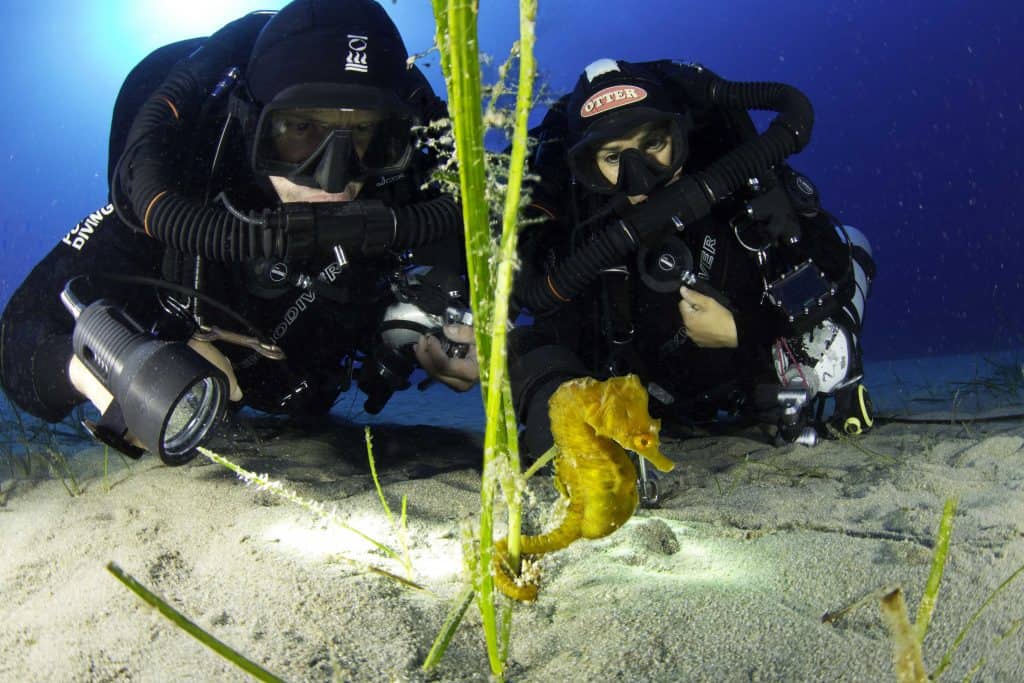 The diving in this area is quite typically Mediterranean and it reminded me a little of the Canaries. Plenty of caves, walls with overhangs and swim-throughs, and other interesting rock formations to explore. Many endemic species hide amongst them and it's a good idea to take a dive light to illuminate the tiny cracks and crevices. Nudibranchs of all hues are a particular speciality here. But there's also plenty of bigger species. This area really does have something for all divers!
How far are the dive sites?
The dive sites are typically situated a 10-80 minute boat ride from the centre. Diving here is for all levels, and most of the sites could cater for everyone from Open Water qualified to also offering plenty to see at 25/30m for those with Advanced or higher. All of our dives ended near/under the boat in a 5m area.
During my stay, the Adriatic was flat calm and the summer weather just the right mix of sun and cloud to be comfortable. On day three, the first dive included a cave with a lot of colourful sponges covering the entrance and roof. Afterwards, a tasty lunch at a small village was followed by a nice relaxing dive on a treasure hunt for seahorses again. But this time the highlight was a very compliant pair of cuttlefish that we stayed with for a good 10 minutes.
Accommodation Matters
Diverse Travel guests can choose from a variety of superb apartments to suit group size and needs. I stayed in a one bedroom apartment at Zaja Apartments.  They are just a 150m stroll from the dive centre in a residential area on the outskirts of the pretty resort of Okrug Gornji Bay. My apartment block had nine different apartments, but all of the accommodation, checked and verified by the dive centre management, is within 50-400m of the dive centre.
What was the accommodation like?
Each of the modern Zaja Apartments offers a well-appointed bedroom(s), a sofa bed and air-conditioning in the main living area.  Complete with a kitchen, bathroom with shower, balcony with sea view, TV/SAT, Wi-Fi, and private parking. Everything is so close at hand here that you really don't need to hire a car. But it would be useful if you want to explore further afield along this beautiful coastline.
All of the accommodation is self-catering. Mine was certainly one of the best equipped kitchens I've ever seen in an apartment, but I wasn't going to make much more than a cup of tea there.  There are so many lovely restaurants and cafes to discover in the area. It's a short walk to the waterfront or you can take a water taxi to the old town of Trogir for even more choice. I enjoyed a cold beer most nights on the balcony, admiring the lovely view.  Each night heading into the resort for a bite to eat and to soak up the evening atmosphere.
What else is there to do in Trogir, Croatia?
The last day before coming home from a dive trip is never a diver's favourite. That's unless there is a beautiful historic location to explore on your doorstep. And I soon learnt there's no shortage of possibilities for passing the time in this area!
The fascinating waterfront town of Trogir, a World Heritage Site since 1997, is just a scenic water taxi ride (or ten minutes by road) from the dive centre and your accommodation. What could be better than combining a bit of exercise and history. Climbing the castle tower and the spire of the Cathedral of St. Lawrence were both great workouts. And absolutely worth it for the stunning views from the top.
Trogir is technically an island, connected to the mainland by a bridge. It's extremely photogenic and with 2,000 years of history, non-diving partners or friends can easily find plenty to see and do. There's also fantastic local (and international) food on offer! On my final day, I enjoyed a leisurely, traditional lunch in one of the many reasonably-priced restaurants dotted around the town.
My trip to Croatia was sadly coming to an end. I stayed for 5 nights but with three full days and 1 half day's diving.  You can pack a lot of underwater time into a short stay. Croatia's closeness to the UK means it is perfect for short breaks of less than a week – or even a long weekend. But Croatia is a vast and beautiful country and with more than 700 islands there is so much to see here. Trogir is an excellent starting point for a longer Croatian adventure too and I am absolutely looking forward to returning to this lovely destination someday soon.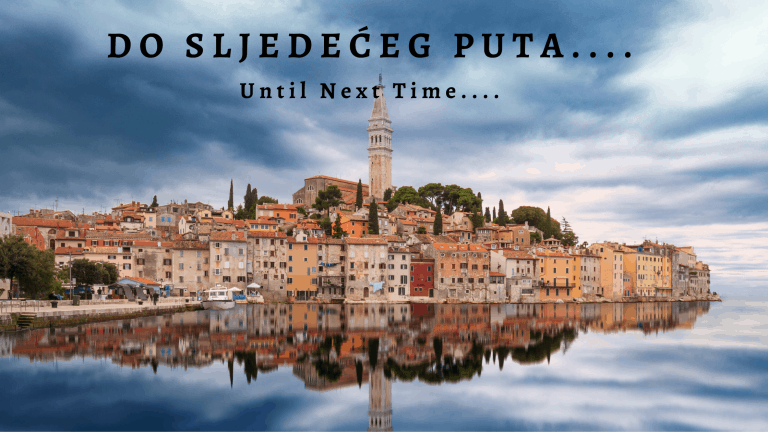 Interested in diving in Croatia?
UK travellers can fly direct to Split, Croatia with easyJet and Croatia Airlines. 
Croatia is great value for money and packages for a one week dive holiday start from just £575pp* including:- 
Flights from London Gatwick or Luton to Split with easyJet and 23kgs baggage
7 nights stay at the Zaja Apartments, Trogir in a one bedroomed, self-catering, apartment
10 boat dives with Trogir Dive Centre with air, tanks and weights                                                                                                        *Example based on May 2021 departure and two sharing.
If you would like to know more about diving in Croatia, please give me a call on 01473 852002 or email us and I'll be happy to tell you more!