A warm welcome to our three new team members.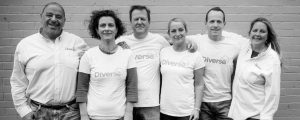 How delighted are we to let you know that we have increased both our team of experts and our product range.
Joining the already impressive crew of Holly Hawkins, Jim Yanny, Cary Yanny and Kirsty Scopes will be John Butland, Sales Manager, Helena Nawar, Sales Executive and Simon Slater, Sales Executive.
John, Helena and Simon have over 34 years' experience in the dive travel industry gained at Cambridgeshire-based tour operator, Regaldive.
"Experience, knowledge, strong customer-service; all are highly sought-after skills that John, Helena and Simon bring in abundance," says Director, Jim Yanny. "Our product offerings will also increase as we mine their knowledge and offer customers even more in the way of dive destinations and know-how."
New offices in Cambridgeshire will complement the existing office in Ipswich.
Renowned for their personal service and tailor-made holidays, Diverse Travel has been taking people on worldwide holidays for years. This experienced team creates the perfect holiday. The vast majority of locations are personally known to them so you get exactly what you're looking for.
Keep up to date with the latest news by signing up for the Diverse Travel email newsletter below.