LUXURY LIVEABOARD HOLIDAYS TO OMAN
Oman offers pristine reefs, stunning deserts, rugged mountain landscapes, green oases, endless beaches and friendly people for a scuba diving liveaboard trip. The Arabian Sea and Gulf of Oman provide large coral reefs in the the Daymaniyat Islands off the coast of Muscat and Hallaniyat Islands off the coast of Mirbat in southern Oman (Arabian Sea) as well as untouched and undiscovered reefs and wrecks.
You'll discover that the sea is full of fascinating life – whale sharks, humpback whales, sperm whales dolphins, manta rays, sharks, sea turtles, mobula, mola mola, moray eels, angelfish, stingrays, king mackerel, tuna, lobster, crayfish, and nudibranchs. More than 1000 different types of fish and shellfish call the Arabian Sea and Gulf of Oman home. Strict fishing conditions and large marine parks ensure that this valuable treasure is protected. (whale sharks, mola mola and manta rays may be seen on the Muscat itinerary only)
Overview
The 45 metre Oman Aggressor is a spacious steel yacht, built and powered for comfort, safety and stability. All staterooms and the interior of the yacht are new and have a stylish design. Her comfortable accommodation for 22 guests includes 11 spacious staterooms. The yacht has a beautiful spacious salon, large sun deck with shading, Jacuzzi, chaise lounges and deck chairs, bar and a complete photo/video centre. 
The menu aboard is varied and plentiful, with a variety of Omani feasts and local cuisine. Breakfast is cooked to order, followed by a buffet lunch and an elegant dinner with tableside service.  Dinners are chef prepared and served each evening and include salads, vegetables, seafood, beef or chicken with a fresh homemade dessert. Fresh mid-morning and mid-afternoon snacks are also served.
Beverages (alcoholic and non-alcoholic) are complimentary while onboard. The Aggressor's selection includes fruit juices, soft drinks, iced water, iced tea, coffee, and a limited selection of local beer and wine, which are complimentary. You may wish to purchase your favourite alcoholic drink from the duty free shop at the airport prior to departing to Oman. 
Boat Specs
Built and maintained to the specifications of the local regulatory agencies and the regulations of the country of the flag.
Steel Yacht
Length:  148 ft.
Beam: 28
Passengers: 22
Crew:  13
Saturday to Saturday trips
Boarding: Saturday 3:00 p.m.
Check out: Saturday 8 a.m.
6 x Deluxe Staterooms
4 x Master Staterooms
1 x Junior Suite
Arrival/Boarding/Departure: Boarding starts at 03:00 pm. On Sunday morning the yacht departs. After 5 1/2 days of of scuba diving the Oman Aggressor returns to the Port. Check-out is Saturday morning at 8:00 am. Transportation is provided back to the host hotels or airport from the yacht at the end of the charter. Transportation is provided back to the Airport according the itinerary on Saturday morning.
Taxes/Fees/Transfers:
USD 200 Park & Port Fee: Muscat, Salalah (7 night charters for diver/non diver)
USD 200 Park & Port Fee: Muscat – Salalah (10 night charter for diver/non diver)
Itineraries
Oman Aggressor® Itineraries, Domestic Airports, Host Hotels, and Ports

7-Night Daymaniyat Islands Itinerary:  Muscat, Muscat Airport (MCT); Embark/Disembark Port/Marina is Al Mouj Marina and the host hotel is Grand Millennium Hotel.
7-Night Hallaniyat Islands Itinerary: Salalah; Salalah Airport (SLL) Embark/Disembark and the host hotel is Juweira Boutique Hotel & Marina (Located 30 minutes from the airport).
10-Night Daymaniyat & Hallaniyat Islands Itinerary: Muscat, Muscat Airport (MCT); Embark is Al Mouj Marina with the host hotel Grand Millennium Hotel (located 60 minutes from the airport) and Disembark and host hotel is in Salalah (SLL) at the Juweira Boutique Hotel & Marina (located 30 minutes from the airport
For more details click here
Other Boats
Schedule & Available Spaces
Book your diving holidays with the experts. Fantastic offers from the Diverse Travel team for you!
Insights, recommendations and dive experiences from our team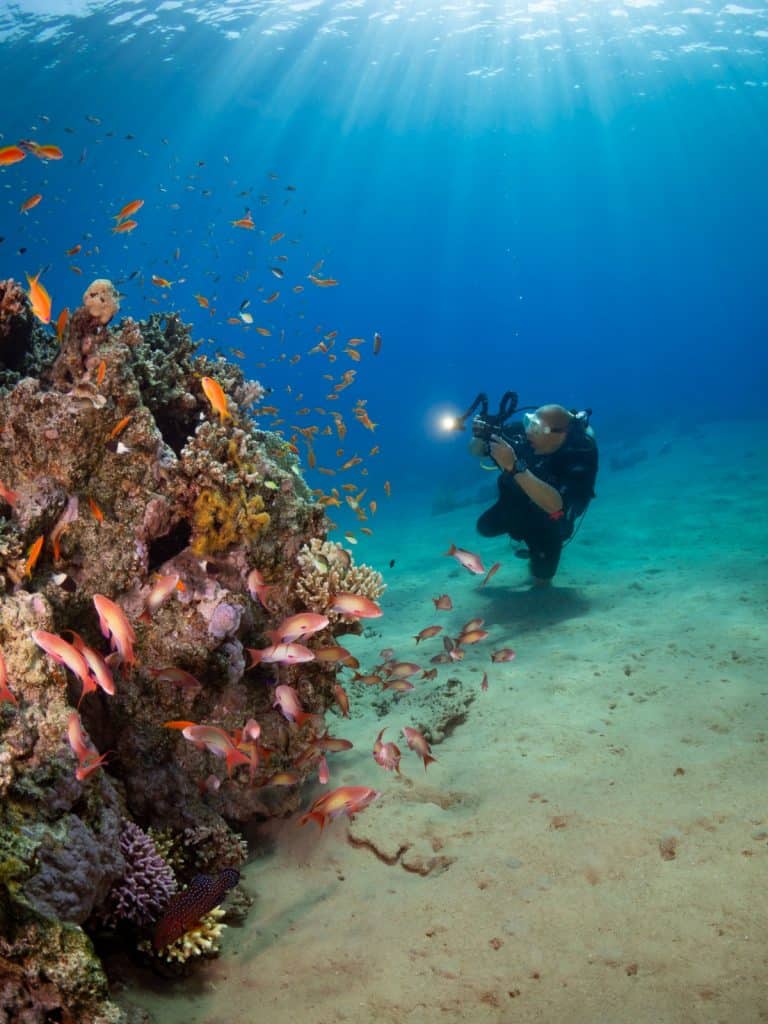 Blog
Leave home and dive into crystal clear waters before the sun sets – the Red Sea's perfect diving destination, Sharm el Sheikh, is back! Ok
Read More