We are delighted to arrange your diving holidays to Sharm el Sheikh again!
As direct flights return to Sharm from the UK, we've been here over the past week and will, happily, be here for a further week. We're inspecting hotels, meeting the local agents who will be arranging your airport pick-ups and drop-offs and also checking out another type of drop off; those to be found underwater.
On this occasion we flew EgyptAir via Cairo due to direct flights from the UK not having started when we flew out and the recent lifting of the flight restriction meant that we were able to land at Sharm el Sheikh Airport rather than having to drive here from Cairo. You can do the same right now but from next month you'll once again be able to fly direct to Sharm.
We've been diving with our preferred Sharm dive operator, Emperor Divers. Dive Guides Elise, Duncan and Tracy have been their usual stellar selves, as have our wonderful boat crew of Captains Ibrahim and Hany, Chef Sayed and Crewman Saad.
Our team is now delighted to once again be able to arrange your holidays to Sharm el Sheikh. In the coming days and weeks we will add much more detail to our website on our new range of hotel packages so visit Sharm page regularly for further updates.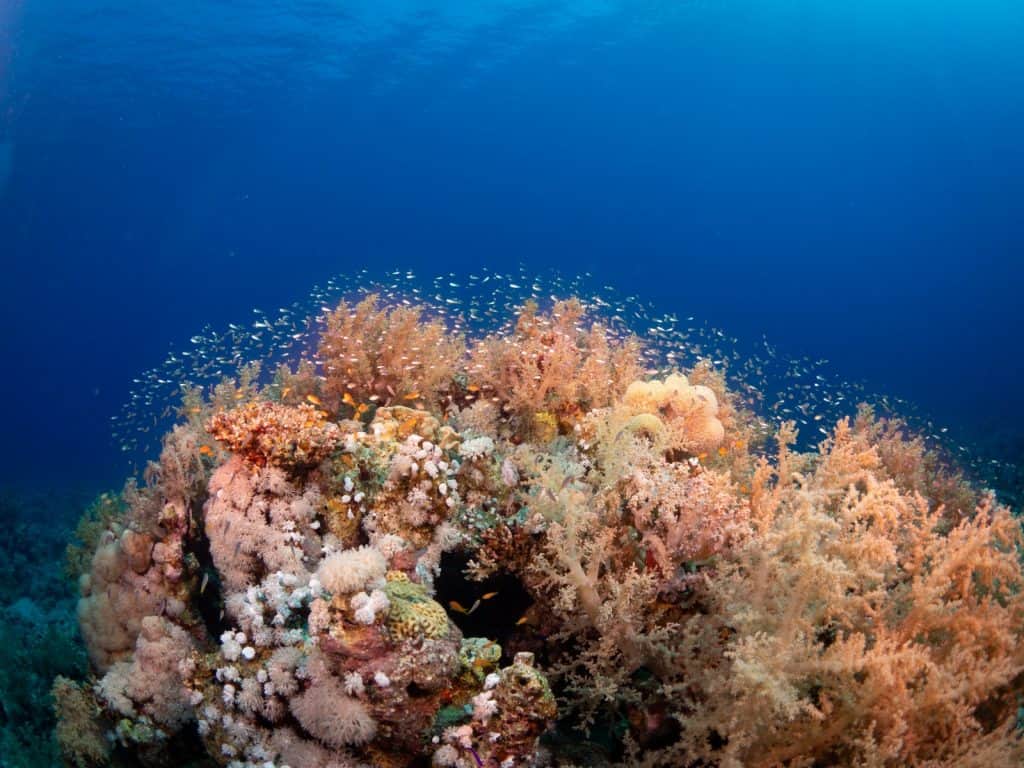 What's the diving like in Sharm?
Our last organised group trip to Sharm was around the Rugby World Cup in England in 2015! Happily, Sharm's diving is every bit as spectacular as when we left it all those years ago. Its coral gardens and walls are stunningly pretty and there is a huge variety of fish species within this expansive habitat. The reefs are generally pristine as ever. What stands out is the clarity of the water and the explosion of colour. It's the absolute definition of diving in a huge natural aquarium; masses of soft and hard coral and so many species of striking fishes making the reef their home. It's just incredibly serene and pretty, relaxing and heavenly.
What is Sharm marine life like?
Expect to see a huge variety of fish including so many species of angelfish, butterflyfish and triggerfish set amongst gardens and walls of purple, yellow and red soft coral. Everywhere are masses of the Red Sea's signature fish, the delicate and beautiful anthias – a living, swaying orange curtain covering the coral walls, rays of sunlight piercing through from the surface above. Snow-white sandy gardens with coral-encrusted pinnacles, home to groupers, morays and damsel fish.
When to go diving in Sharm?
The Red Sea is perfect all year round. Warm waters and not too far to fly.
What else is there to do?
Sharm has been open for business all through the four years that the Brits have been away. So there are plenty of tourists in resort and plenty going on. Camel rides and quad bike experiences in the desert with dinner with the Bedouins and stargazing. Restaurants, bars, clubs and shops. Water-sports, huge water parks, beaches and pools. Cuisine from local Egyptian fare to Indian, Thai, Chinese, steakhouses, seafood, Italian and more … all set against a magnificent backdrop of the craggy Sinai desert's mountains.
What are the practicalities?
Turkish Airlines and EgyptAir offer regular indirect flights into Sharm el Sheikh. From December, hotel inclusive holidays will feature direct flights and from February direct flights with TUI Airlines, with departures from various airports around the UK, will be launched.
What are the costs?
A week's stay at the Ghazala Beach Resort in January costs from £720 per person based on 2 people sharing a room with bed and breakfast meal plan and 5 days' local reef day boat diving with Emperor Divers.
Other hotels are available; for more information please click here  Ghazala Beach Resort
Now for some interesting information – learning about fish behaviour from the best
This first week we've had the added delight of sharing the boat with world-renowned marine life ID book authors, Ned & Anna DeLoach of New World Publications and Blenny Watcher 
Ned lectures in fish behaviour and, while he was not here in that formal capacity, has been generously giving us his time to point out certain fish behaviour to look out for while diving. For example, we'd never noticed that on certain sites in mid-afternoon, at a depth of around 18m, a male Flasher Wrasse will get into a mating 'dance' in which he repeatedly opens and closes his spectacularly colourful dorsal fin to impress his 'harem' of females. The Flasher Wrasse is not a big fish so without Ned pointing out the where, when and what of its behaviour, I guarantee that we would have swum right by. Now we stop and watch this amazing display. This is but one example of our friends' extensive knowledge; by listening to their fascinating explanations we've started to see the reef at a whole new level – it's even richer than at first sight! Thanks for changing our diving for the better, Ned and Anna.
Find out more
Want to learn more about our visit to Sharm el Sheikh? Give us a call on 01473 852002 or contact us through our website.